sometimes, you know, you just have to give in to temptations...who ever has said that,
"Eat to Live, and not Live to Eat."
I am sure has never been to India. we are the land of mysticism, legends, beauty, colors and spices, of a million Gods and over a billion and half people...but most of all, we are a land of FOOD!!
हम

ज़िंदगी

को

केवल

जिकर

नहीं

बल्कि

उसे

चख

कर

उसके

ज़ायेके

का

मज़ा

लेते

है

।

यही

है

हम

भारत

वासीयों

की

पहेचान

।

...We are Indians. we live to eat and there's nothing wrong about it. yes, we are health conscious and even paranoid at times about the way we look and how the world perceives us. but for most of the times, we indulge in food.
life is about food for us.
our marriages, our funerals, our festivals or be it simply traveling from one part of our foodie nation to the other. for us, it's all about the food.
...and one of the many sheer indulgences that we have to succumb to are
Jalebis
! mmmm, hot hot Jalebis...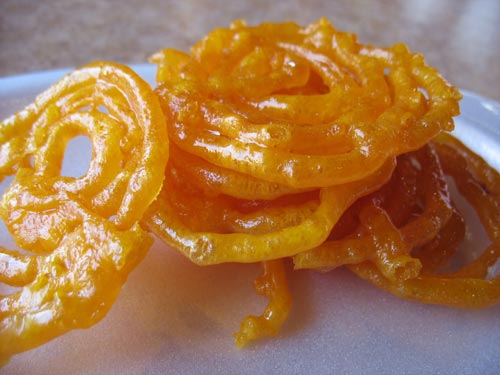 +

better still, put the jalebis overnight in the fridge, and then put them in a glass and top it up with warm milk.
now that is pure heaven...and it's resting right here in my tummy!
Yum! Slurp!
:)